Feature:
Plastic parts of cars are prone to crises such as oxidation and discoloration due to prolonged exposure to the sun and air pollution. Regular use of auto plastic renovation funds can make your car as clean as new.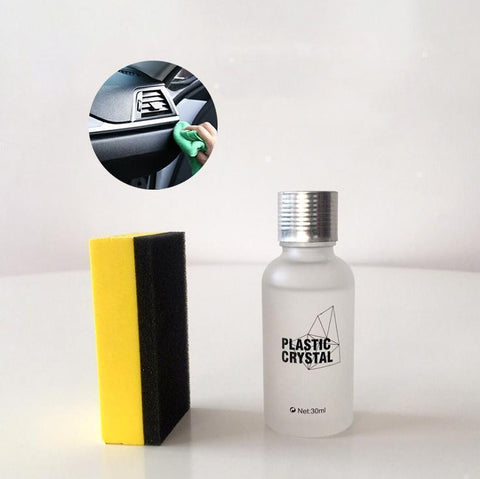 Maintenance of the plastic parts of the car: It will form a top coat in the car to protect your car from corrosion, scratches, etc., and to extend its life.
Maintaining the beautiful color of the car: Car plastic renovation agent can effectively remove the stains on the surface of plastic parts, and prevent plastics from oxidizing and fading in the sun, which can bring out the fascinating color of the car.
Environmentally friendly: This product uses environmentally friendly materials and does not contain any harmful substances. It does not have a pungent odor and does not damage automotive plastic parts.
Easy to use: you can fix your car in minutes.
How to use:
1. Let the product fall onto the sponge
2. Wipe the surface of the plastic part evenly with the product.
3. Finally, wipe the surface with a towel and dry it.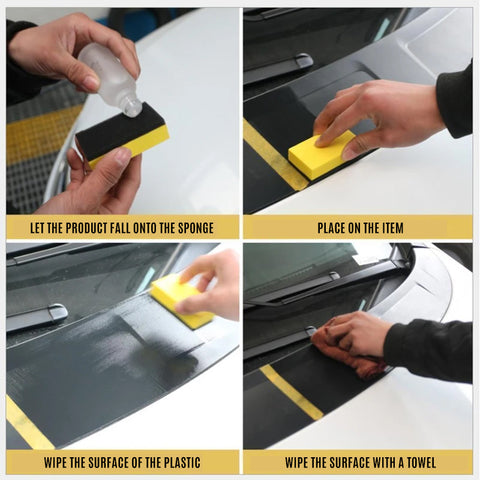 Specifications:
Capacity: 30ml
Color: Colorless liquid
Main ingredients: fluorine

Package includes:
1 x sponge
1 x Auto Plastic Renovation Tool